Hi Loves,
Hollywood was dress to impress, Sunday, March 4, 2018. Celebrities came together to celebrate the biggest night in Hollywood as well in fashion. At home, viewers anxiously waited to see their favorite celebrity walk through the red carpet to see what they were wearing and by who.
Let's take a look at my favorite dresses of the Oscars' red carpet.
Paz Vega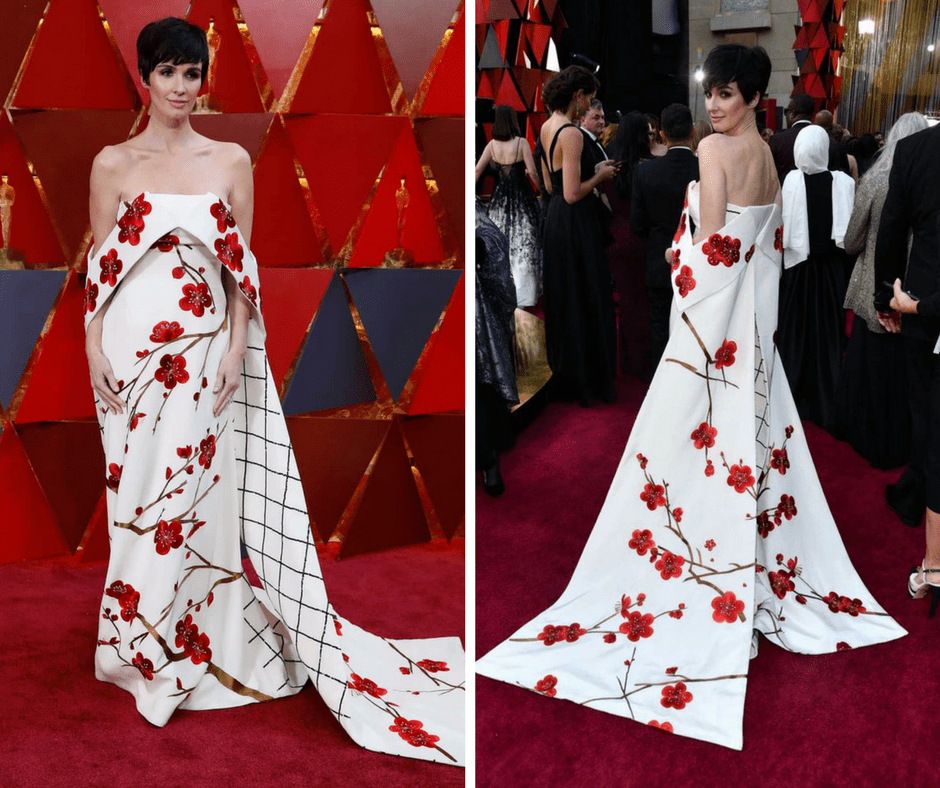 The Spanish actress wore an incredible gown by Christopher Bu. What drew me to the dress was its unique structure and the red velvet cherry blossom print. It was strapless with mid-arm sleeves cascading down into a train. One would have never expected the checker print on the back of the dress and also on the inside of the train. Both set of prints complemented each other rather nicely in a surprising way.
Paz opted for a very simple makeup look enhancing her amazing facial features. She made the right choice by not wearing any jewelry, as it would have taken away from the cherry blossom print.
Jennifer Lawrence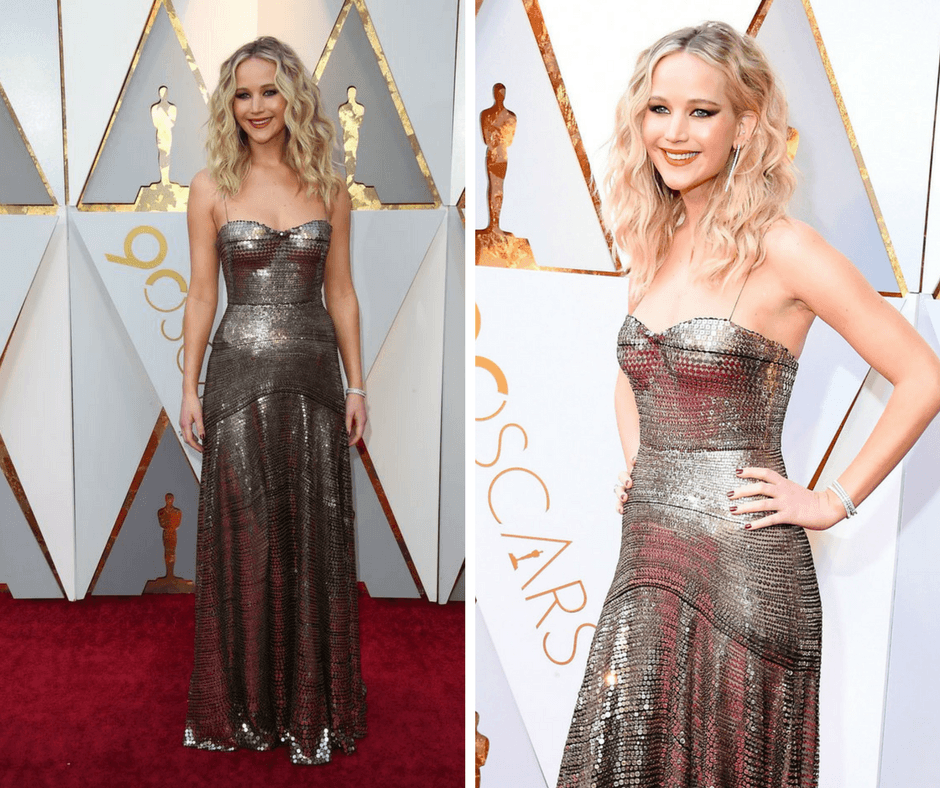 Jennifer looked stunning in a gold metallic sequin dress by Christian Dior. Although it was simple and classic, the gold metallic sequin fabric made the dress stand out. Her wavy 90s hair complemented the dress nicely giving the outfit a young and playful vibe. She had a simple smokey eye look and a nude-brown lipstick.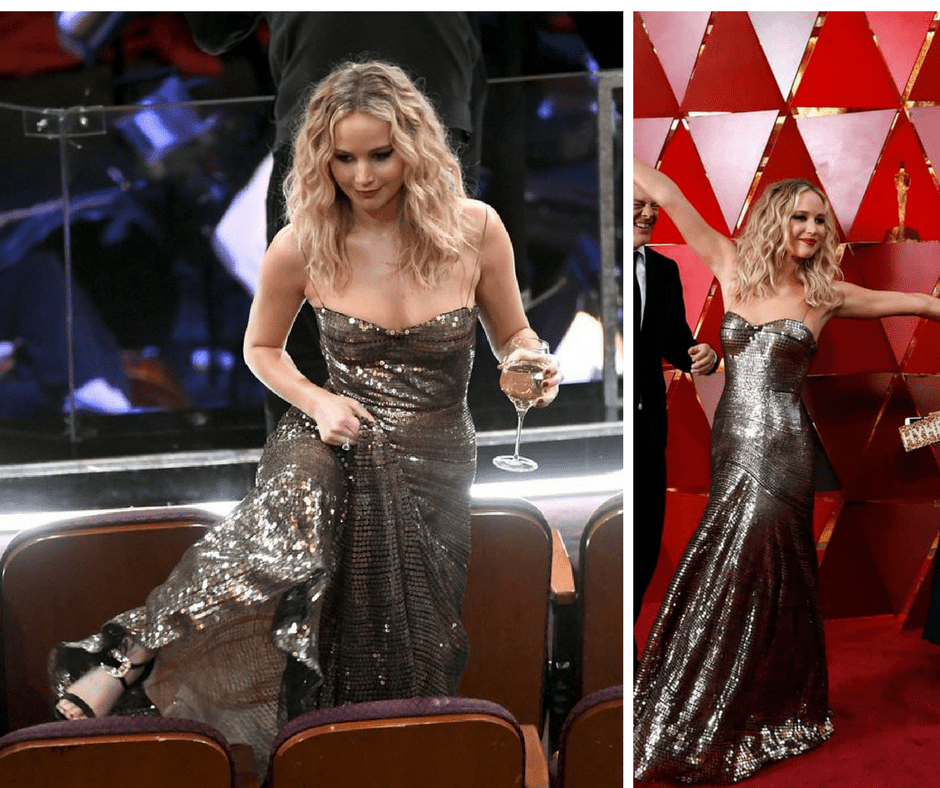 Jennifer Lawrence greatly enjoyed the Oscars, as she appeared smiling and having fun in every photo. Girl, tell me how you were able to climb the bleaches in a gown, in heels and while holding a glass of wine so gracefully? Need to know.
Zendaya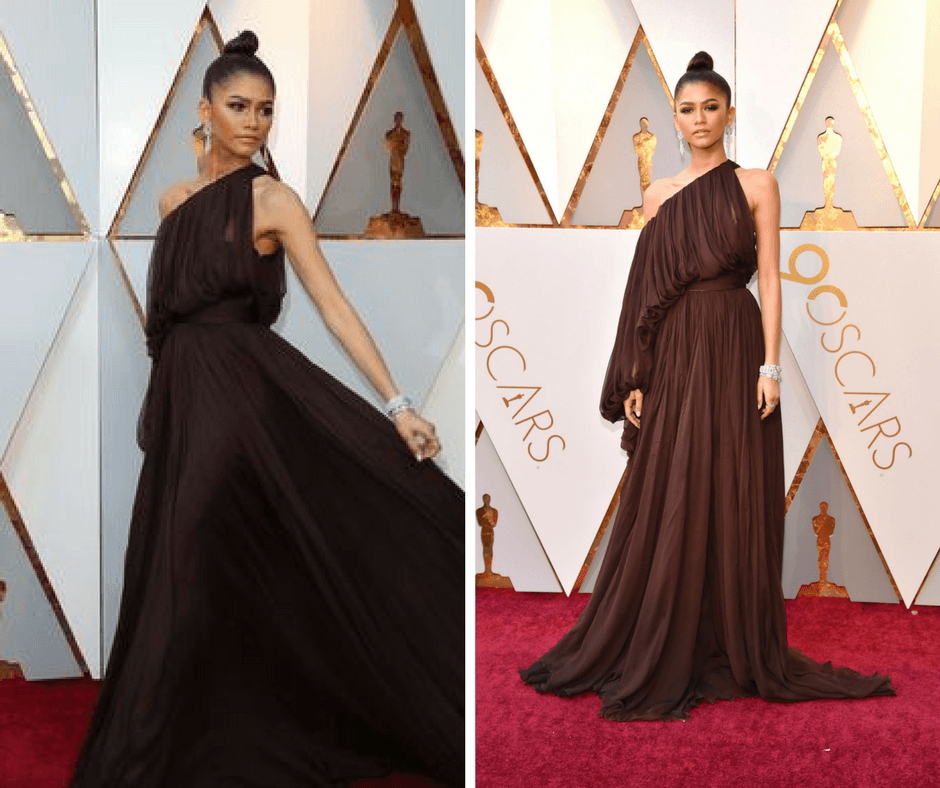 Zendaya looked like a Greek Goddess in a one-shoulder dark brown chiffon gown by Giambattista Valli. The lopsided neckline emphasized her collarbone while bringing attention to her gorgeous face. The gown was cinched at the waist, while a huge bell sleeve covered one arm. She kept her hair in a topknot and had a gold/brown makeup look. She looked absolutely stunning.
I want to know what was your favorite Oscars look. Comment below. 🙂
Stay Beautiful xoxo